NOTHING TO LOSE IN CHUNG SIGNING
The New England Patriots need another safety and their former 2009 2nd round (34th overall) draft pick, Patrick Chung, was available without much risk. This one was really a no-brainer. Despite many Patriot fans asking why, I'll reverse it and say "Why Not?"
The details of his contract are unknown at this time, but you can bet the Patriots have all their bases covered to make this a low risk, high reward (well, maybe medium reward) deal. There's lots of room for bodies on the roster right now, so he's not taking up anyone's spot...and you have to believe little or nothing is guaranteed. The cap hit will, at worst, be minimal.
He is really happy to be back, even if just for a little while. Chung on returning to Patriots: "I'm really glad to be back ... It's like family. It's a blessing."
WHY CHUNG?
Those that are asking why need to realize he understands the system and the Patriots have seen enough of him to know his assets and liabilities. He is a small step in filling the SS role. There is more to come, either in the draft or another player floating around out there.
"I have no expectations," Chung said when asked about his potential role. "Whatever Bill [Belichick] needs me to do to help the team win I'm OK with it. Whatever my role is I'm good. I'm not worried about any distractions."
HISTORY WITH THE PATRIOTS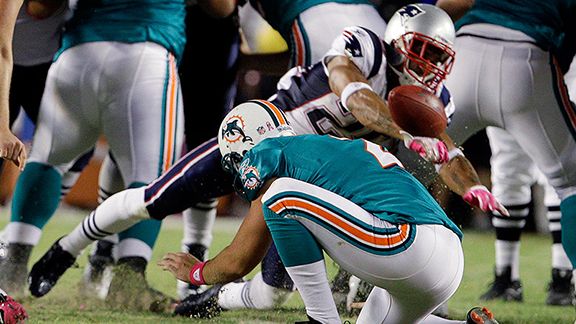 2010 - In his first game as a starter Chung set a career high with 16 tackles against the Cincinnati Bengals In the 2nd half of a Monday Night Football game against the Miami Dolphins Chung blocked both a punt and a field goal (see picture) leading to 2 Patriot TDs In the same game he returned an interception 51 yards for a TD Chung had a 13 tackle game in week 6 in an overtime win over the Ravens In week 7 he left the game in the 2nd quarter with a knee injury
He returned in Week 10, recording 10 tackles in a win over the Steelers
The injury was the first of many and the beginning of the end for his tenure with the Patriots.
...AND THE REST IS HISTORY
Chungs fall from favor happened quickly. It all started in the Patriot's Divisional Playoff loss to the J-E-T-S. On his own he botched a fake punt, later stating that it was his decision. The play was bad enough on its own, but the fact that it was against the hated NY Jets made it unforgiveable.
WHAT TO EXPECT
Chung's one year in Philadelphia didn't impress anyone and almost a year to the day after he was signed the Eagles released him.
"I can't really tell you why things didn't work out in Philly," Chung said. "But now that this is happening I feel it's a better fit here. I know the system. I know the coaches and it's a good environment. I'm back in the city that gave me a chance. It feels like home."
Don't expect much from him. If he makes the roster he will surprise many...but if he does Chung could help this team in a back-up role. Is it a "reach?" Sure it is, just remember Bill Belichick knows what he is doing, so give him the benefit of the doubt and wait to see what happens.
You can follow me on Twitter @SnowdonBob and I look forward to your comments