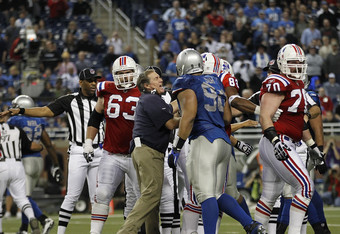 The last time New England started the preseason 3-0 was in 2003, when they went a perfect 4-0 in exhibition play, they also went on to win a Super Bowl that year.
The team looks to duplicate these feats, particularly that last one, starting with a showdown against the Lions in the Motor City. New England is 2-5 all time against Detroit in the preseason, including a 34-10 drubbing in the two's most recent preseason match up – via Patriots.com.
Week three of the NFL's preseason carries the most significance of the four exhibition games. It is a dress rehearsal for when the real season gets underway. Many teams, including the Patriots opt to play their starters the entire first half. Bill Belichick has already said that he intends on playing his starters into the third quarter.
With that in mind, here are some things worth keeping an eye on.
Secondary
Alfonzo Dennard and Ras-I Dowling are not expected to play and the status of Devin McCourty, who recently shed his red non-contact jersey, is unclear.
With Dennard's status for the beginning and potentially a larger chunk of the regular season also uncertain and Dowling's injury history, the secondary may very well look like this at points during the regular season, particularly if McCourty plays.
Lining up against Calvin Johnson will be a huge test for not only Aqib Talib, but for Kyle Arrington as well, who if injuries and suspensions enter the equation, will be asked to defend more than just slot receivers, which is his specialty.
This is also an opportunity for someone to claim the starting safety spot, opposite McCourty. Adrian Wilson and Steven Gregory have been splitting reps with the first team, while rookie Duron Harmon has been playing well behind them. For Gregory, not winning the starting job could potentially mean being cut, in order to use the roster spot to provide depth elsewhere.
These three will need to excel in three areas, communicating, helping over the top and stopping the run.
Whoever does this the best will likely be named the starter for week one.
Receivers
With Danny Amendola sidelined, the rookies will be getting plenty of snaps with Tom Brady. Aaron Dobson, Josh Boyce, and Kenbrell Thompkins have all looked good throughout camp. If they can stay in sync with number 12 and prove to be reliable and consistent targets, it will prove to be a huge vote of confidence as the group looks to gather momentum heading into the regular season.
With Amendola out, Julian Edelman will also have an opportunity to get more reps with Brady. The speedy receiver does a very good job of getting himself open, but if he struggles against Detroit, the injury-plagued Edelman may find himself searching for a new team.
Pass Rush
After failing to generate much of a pass rush against Michael Vick and the Eagles, the Patriots responded by suffocating Josh Freeman, constantly harassing him and sacking him four times.
The front seven will have to be able to get to Mathew Stafford, who is a much more polished quarterback than Freeman, in order to help make the secondary's job of containing Megatron easier.
Offensive Line
Through two preseason games, the line has yet to allow a sack. If Brady is to go from playing two series a game to potentially playing into the second half, it is imperative that Dante Scarnecchias group does not let Ndumakong Suh and Nick Fairley create pressure up the middle, while also preventing fifth overall pick Ziggy Ansah from generating a pass rush off the edge.