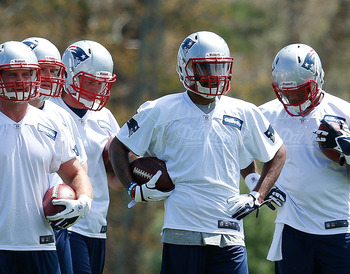 With mandatory mini-camp underway, it is time for the latest Patriots roster projection.
Who would've thought a quarterback not named Tom Brady would be the one stealing headlines at Patriots mini-camp? It is unclear if Tim Tebow will or won't play and how he will be utilized if his number – now number five, is called.
Quarterback:
Tom Brady, Ryan Mallet, Tim Tebow (3)
Tebow is projected to be the third-string quarterback, while also studying the tight end position. It is highly unlikely that Brady comes off the field for him. The former Heisman winner's specialties are the red zone and short yardage situations. The Patriots have led the NFL in red zone touchdowns two years in a row; in 2012, the team generated three red zone touchdowns per game – via teamrankings.com. According to ESPN.com senior researcher Jason Vida, Brady has converted on 49 straight 3rd-and-1 and 4th-and-1 rushes.
If Tebow does see the field this season perhaps it is in a wildcat package, featuring both QB's. However, it is much more likely that he spends the year on the sideline as the Patriots attempt to develop a quarterback who clearly has the intangibles – even if that's all he has right now.
Running Back:
Stevan Ridley, Shane Vereen, Leon Washington, Brandon Bolden (4)
Washington had a strong showing during OTA's and was impressive coming out of the backfield, proving he is still able to contribute in the passing game, if need be.
Wide Receiver:
Danny Amendola, Aaron Dobson, Josh Boyce, Julian Edelman, Donald Jones, Mathew Slater (6)
Assuming Tebow makes the roster, the wide receiver position is the easiest to remove depth from. While I am very high on the upside of Mark Harrison, this certainly hurts his already so-so chances. If Harrison is cut, hopefully he can make it through to the practice squad. Speaking of the practice squad, a playerworth noting is Kamar Aiken, who spent half of last season with the Patriots in this capacity. Not only does his familiarity with the playbook give him an edge over his competition but at 6"2, 213 pounds, Aiken provides the type of size New England is lacking amongst its receiving corpse.
Tight End:
Rob Gronkowski, Aaron Hernandez, Jake Ballard, Michael Hoomanawanui, Zach Sudfeld (5)
Sudfeld, a 6"7 undrafted tight end out of Nevada, comes with a profile that is very familiar to Patriots fans. After an incredibly productive college career, Sudfeld went undrafted. Why, you ask? Injuries. Per the Boston Globe's Ben Volin, - scroll a little more than halfway down the article to get to the Sudfeld portion. Sudfeld caught 74 percent of balls thrown in his direction. This stacks up much more favorably when compared to the top tight ends in this past draft, including Tyler Eifert's 61 percent. In addition, Sudfeld led all collegiate tight ends in blocks resulting in touchdowns with 24. This includes five in the passing game. Sudfeld is unlikely to slip through to New England's practice squad and given that he can help to pace Gronk, it would be wise to carry the Nevada product on the active roster.
Offensive Line:
Nate Solder, Logan Mankins, Ryan Wendell, Dan Connolly, Sebastian Vollmer, Will Svitek, Marcus Cannon, Markus Zusevics, Nick McDonald (9)
McDonald's ability to play anywhere on the line likely provides too much insurance for the Patriots to cut him. Marcus Cannon remains the player most worth keeping an eye on in this group.
Defensive End:
Chandler Jones, Rob Ninkovich, Justin Francis, Michael Buchanan (4)
Thinning the defensive end position is one of the avenues worth exploring in order to keep Sudfeld on the roster. If Jake Bequette fails to produce in training camp, the former third-round pick may be given the pink slip.
Defensive Tackle:
Vince Wilfork, Tommy Kelly, Armon Armstead, Marcus Fortson (4)
The production the Patriots get out of Armstead and Kelly will go a long way towards how successful the passing defense is this season.
Linebacker:
Jerod Mayo, Brandon Spikes, Don't'a Hightower, Jamie Collins, Dane Fletcher (5)
We know what we're getting with Mayo, the question is what will year two look like for Hightower and what type of season will Spikes have as he looks to cash in when his rookie contract expires at the end of the year?
Cornerback:
Aqib Talib, Alfonzo Dennard, Kyle Arrington, Logan Ryan, Ras-I Dowling (5)
Familiarity is key. This group is almost entirely comprised of returning players and that chemistry should pay dividends on the field. New England needs Talib to stay healthy; otherwise the team goes back to facing the same major issues that have plagued this unit in recent years.
Safety:
Devin McCourty, Tavon Wilson, Adrian Wilson, Steve Gregory, Duron Harmon (5)
Keeping Sudfeld or Tebow on the roster may come at the expense of Gregory. Another issue worth addressing at the safety position is the declining optimism surrounding Adrian Wilson. The Rodney Harrison-esque safety battled injuries throughout last season but appears to be fully healthy. While he may be a physical-natured thumper, Wilson also happens to be quite the athlete and can cover more ground than Harrison.
Special Teams:
Steve Gostkowski, Zoltan Mesko, Danny Aiken (3)
Despite bringing in players to challenge the likes of Gostkowski and Mesko, these two will have another go-around as the Patriots starting kicker and punter this season.