Pick 1:32 Kevin Johnson, CB, Wake Forest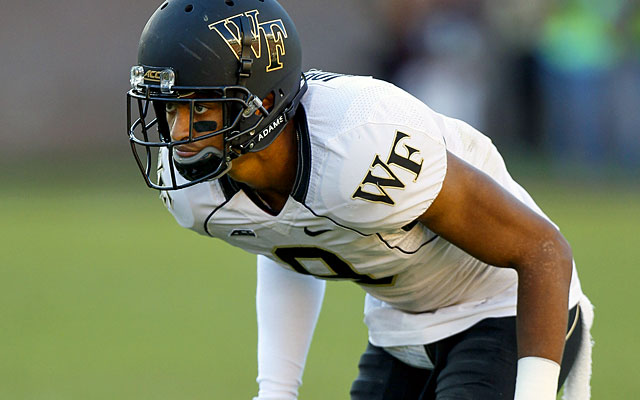 (Image Source: cbs.com)
Although they lost Darrelle Revis and Brandon Browner, cornerback is not the most important need on this team. However, Johnson was the best player on the boar and does fit a need. Johnson has good size, speed, can play outside as well as in the nickel (although he would be used mostly outside in New England), and is a good tackler. While that is something that every player should be at this level, that is just not the case and Bill Belichick loves players who work on the fundamentals.
Pick 2:32 Grady Jarrett, DT, Clemson
(Image Source: cbs.com)
Jarrett is a big body who can help to fill the void left by Vince Wilfork. He was one of the best defensive tackles in the nation, and has been overshadowed playing next to Vic Beasley for years. Put him next to Dominique Easley, and the Patriots could have one of the better young interior lines.
Pick 3:32 Laken Tomlinson, G, Duke
(Image Source: duke.scout.com
Tomlinson has jumped up to the number one guard available in the draft. While Belichick could take a guard first round like he did in 2005 with Logan Mankins, he could still find a very good guard in the middle rounds. Not only has he earned All-ACC honors three times, he has been named Academic All-ACC four times. He is one of the smartest players in this draft; he wants to be a neurosurgeon after football. Oh, and he didn't allow a sack over his final two years at Duke.
Pick 3:33 Ameer Abdullah, RB, Nebraska
(Image Source: cbs.com)
While it is not a pressing need, it is still a need, and Abdullah is one of the best backs in the draft. He also had a quote recently that I'm sure the Patriots loved. When compared to Warrick Dunn, Abdullah said, "I appreciate [the comparisions], but any time you try to compare any [rookie] back to another back right now, it's just premature. I see a lot of backs in this draft class compared to Beast Mode or to Adrian Peterson. It's not fair." He's right and very humble about it.
Pick 4:2 Eric Rowe, CB, Utah
(Image Source: 247sports.com)
Rowe has very good size for a cornerback and could be the physical presence the Patriots lost when they cut ties with Brandon Browner. Some believe he is better fit for safety, but that just means another versatile player for Belichick.
Pick 4:32 Hau'oli Kikaha , OLB, Washington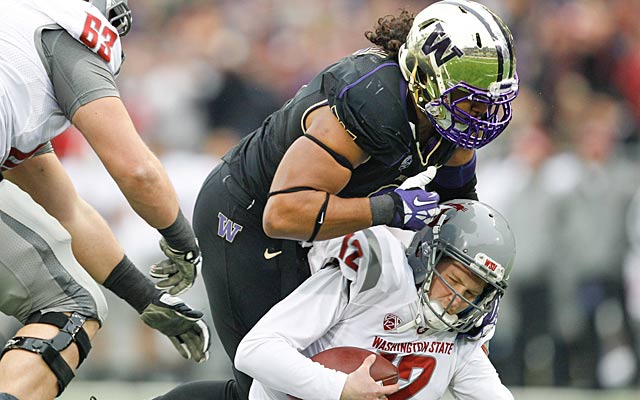 (Image Source: cbs.com)
Kikaha is described as a player who just does not quit. He has a very high motor and plays extremely competitively. CBS Sports compares Kikaha to Rob Ninkovich. If he is anything like Ninkovich, Kikaha would quickly become a fan favorite in New England.
Pick 6:2 Justin Hardy, WR, ECU
(Image Source: cbs.com)
Hardy in the sixth round would be a steal. He is projected to be a slot receiver with great hands. If he gains Brady's trust early, which I do not see any reason he would not, he could take over Danny Amendola's role backing up Julian Edelman.
Pick 7:2 Nick Marshall, CB, Auburn
(Image Source: cbs.com)
A converted quarterback, Marshall is going to attempt to make the transition to cornerback to succeed in the NFL. Marshall is extremely athletic and if he is under the right coaching, could make the change. This is exactly the kind of player Belichick would bring in. Plus, think of the trick plays they can use him for on offense.
Pick 7: 36, Nick Boyle, TE, Delaware
(Image Source: njherald.com)
Boyle is another player who plays with a very high motor. He was a team captain at Delaware and is considered a very high character person. He is very athletic and a good blocker as well. Sounds like a Belichick guy to me.
Click here to view all draft results.
Patriots 7 Round Mock Draft 3.0
Patriots 7 Round Mock Draft 2.0
Patriots 7 Round Mock Draft 1.0