If you have a player you would like to see the Patriots target in this series of mock drafts, tweet @SamPericolo or @PatriotsBeat. Tweet us to request a trade up/trade down and let us know who you would like to see drafted.
**TRADE** The Pittsburgh Steelers have traded the 22nd pick to the New England Patriots for the 32nd pick and the 64th pick.
1:22 Cameron Erving, OL, FSU
(Image Source: NFL.com)
You requested it we listened. @KielWhitehead24 wanted to see the Patriots trade up for Cameron Erving, and I can't say I disagree. He is an absolute stud. There is a chance that Erving slips to the Patriots at 32 but I think the odds of that, while possible, are probably slim. Erving is the most versatile offensive lineman in the draft. He can play every position on the line and has played next to future star Bryan Stork. If Solder gets back to 2013 form and is signed to an extension, the line could be just about set for a long time if Erving joins the Patriots.
**TRADE** The Chicago Bears have traded the 7th pick of the 3rd round to the New England Patriots for the 32nd pick of the 3rd round, the 2nd pick of the 4th round, and the 2nd pick of the 6th round.
3:7 Kevin Johnson, CB, Wake Forest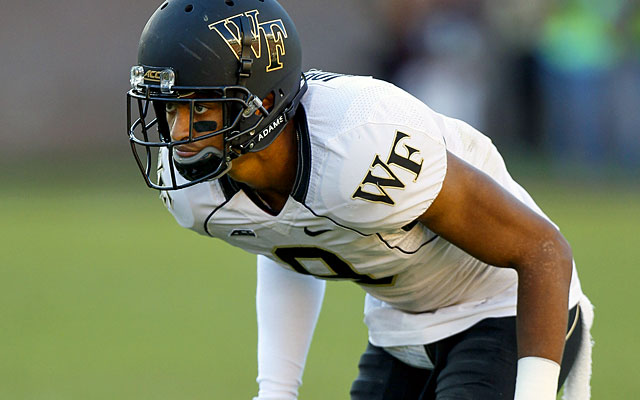 (Image Source: cbssports.com)
@WillysTeam wanted to see the Patriots stay pat and get a cornerback first round. In this one we traded up for Erving, but that does not mean we cannot satisfy everybody and grab a top cornerback as well. Johnson is one of the best cornerbacks in the draft and is definitely worth this trade up. Johnson has good size for a corner, not Brandon Browner size but good size. He has very good cover skills and the ability to play man or zone. If he is available, I would hope to see the Patriots do whatever it takes to grab him.
3:33 Grady Jarrett, DT, Clemson
(Image Source: cbssports.com)
Unfortunately for @thefib0624, a trade up for Leonard Williams is near impossible. I totally agree that I would love to see it, as he is a game changer, but it would take just about every pick the Patriots have. Jarrett, however, is a great value pick in the third round. He is an absolute bull in the middle. He is very strong and would work very nicely next to Dominique Easley. While he slipped a little in 2014, his 2013 was very impressive. He recorded 83 tackles, 11 tackles for loss, and two sacks.
4:32 Jamison Crowder, WR, Duke
(Image Source: goduke.com)
Crowder worked out for the Patriots last week. He is projected to be, you guessed it, a slot receiver, the Patriots' favorite kind of receiver. At only 5'8", that is where he belongs. With Julian Edelman taking big hits every week, it would certainly not hurt to have some more depth at receiver. If he were to be available in the fourth round, he could prove to be a steal.
7:2 Corey Crawford, DE, Clemson
(Image Source: rantsports.com)
No, not that Corey Crawford. This one does not have any Stanley Cup experience. However, he played on a very productive defensive line, along with Vic Beasley and soon-to-be teammate Grady Jarrett. Crawford can line up as either a 4-3 DE or a 3-4 OLB. In 2013, he had more quarterback pressures than teammate, and possible top ten pick Vic Beasley. While that has a lot to do with the fact that teams focused on Beasley, Crawford still showed the ability to get in the backfield. He also plays the run very well.
7:36, E.J. Bibbs, TE, Iowa St.
(Image Source: dabearsbeat.com)
You're not going to find a ton of talent in the 7th round. However, you want somebody who could fit in your system. Bibbs could be that guy. He is a decent blocker, something the Patriots love in skill players, has a great character and is considered very coachable. That all sounds like a Patriot to me. Despite missing the final two games of the season due to an injury, he finished with career highs in catches (45) and touchdowns (8).
Click here to view all draft results.
Patriots 7 Round Mock Draft 2.0
Patriots 7 Round Mock Draft 1.0
For more on the NFL Draft listen to thinks weeks Patriots Beat Podcast, with NEPatriotsDraft.com Editor and Scout Mike Loyko. Hosts Jeff Kane and Bobby Krivitsky will guide you through an hour of NFL Draft talk.