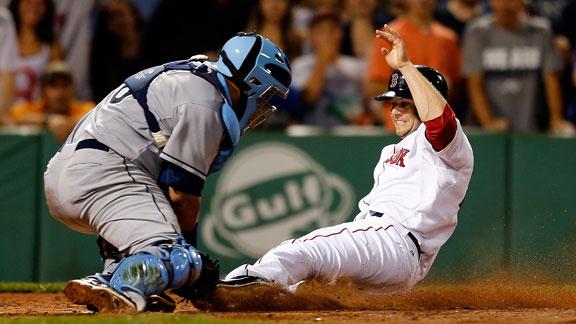 In what could the biggest series of the season for the Boston Red Sox in order to come closer to clinching the AL East, the team will travel to Tampa Bay to take on the Rays for a crucial three game set.
The Boston lead in the AL East is currently seven and a half games entering Tuesday and the Red Sox would wrap up the division possibly by the end of next weekend after their home series vs. the New York Yankees.
Each team seems to be headed in the opposite direction as the Red Sox have won 12 of their last 15 games while the Rays have dropped 11 of their 16. The struggles for Tampa Bay recently has come with the lack of producing runs as they have scored only five or more runs in game only twice since August 23.
Boston will welcome back starter Clay Buchholz to the starting rotation for the first time since June 8. Buchholz had been on the disabled list since June 18 with a neck strain. It is expected the return of Buchholz will shift either Ryan Dempster or more likely Felix Doubront to the Red Sox bullpen for the remainder of the season.
With the absence of centerfield Jacoby Ellsbury and his fractured foot injury, it is expected that Shane Victorino will get majority of the playing time in center. On some nights when the Red Sox face right handed pitching Victorino could shift back to right field with Jackie Bradley Jr. manning center.
Pitching Matchup for the series:
9/10 Clay Buchholz (9-0 1.71 ERA) vs. David Price (8-7 3.51 ERA) 7:10 pm
9/11 Ryan Dempster (8-9 4.79 ERA) vs. Alex Cobb (8-3 2.99 ERA) 7:10 pm
9/12 Jake Peavy (11-5 4.01 ERA) vs. Jeremy Hellickson (11-8 5.04 ERA) 7:10 pm
Series Notes:
David Ortiz home run chase: Currently Ortiz is tied with Mike Piazza for 46th all time in MLB history in home runs with 427. Next home run will put in sole possession of 46th all time and then Ortiz would only trail by three home runs Cal Ripken who has 431 for 45th all time.
Red Sox vs. Rays in 2013: With this series being the final one of the year against each other, the advantage so far in the season series goes to Boston with a 10-7 record vs. the Rays in 2013.