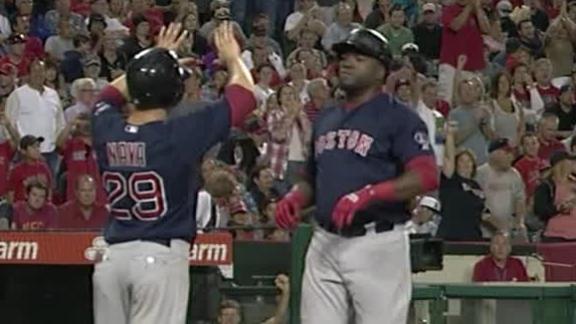 After starting off their, season high ten roadtrip with an impressive 6-2 win over the Los Angeles Angels of Anaheim, the Boston Red Sox faltered in the final two games of the series and ultimately lost two out of three to the Angels.
The first game of series, was all about the solid performance of Felix Doubront, who pitched six and two-thirds allowing just two runs and striking out five. Mike Napoli and David Ortiz each homered for Boston and it was Napoli's first long ball since the beginning of June.
Saturday night saw one of the worst Red Sox performances of the season as they were up 7-3 in the top of the ninth inning. Manager John Farrell brought in Alex Wilson, who has been dependable all season long as a rookie out the Red Sox bullpen but quickly loaded the bases and then the Boston bullpen allowed four runs in the ninth inning to make it a 7-7 game.
Then in the 11 inning, Josh Hamilton hit a two-run walk-off home run for the Angels off Craig Breslow. It was biggest comeback by a team this season against the Red Sox. In the loss, Daniel Nava collected four hits and scored twice for Boston.
Many Red Sox fans are starting to believe that John Lackey is becoming the ace of this pitching staff rightfully so after another solid performance on Sunday despite Boston's 3-0 loss to the Angels to complete the series. Lackey went seven innings striking out nine hitters and allowing just two runs as his ERA dropped to 2.80 ERA despite the loss.
The Red Sox bats were no match for Angels ace Jered Weaver, who pitched six and two-thirds scoreless innings striking out six batters and were limited to only five hits on the night.
With the series in the books, it makes two straight years that the Angels have won the series at home against the Red Sox going 4-2 since 2012.
Looking ahead:Boston will continue their long west coast road trip in Seattle Monday through Thursday. Last season, the Red Sox went 4-3 in Seattle. The Mariners will visit Fenway Park July 30-August 1.