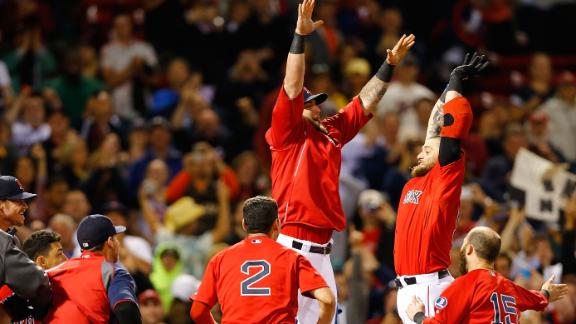 In what was a very quick three game homestand against the Tampa Bay Rays, the Boston Red Sox took two out of three from them including sweeping the day/night doubleheader on Tuesday. By sweeping the doubleheader, it marked the first time the Red Sox swept a doubleheader at Fenway Park since beating the Oakland Athletics on August 27, 2011.
Despite falling 6-2 to the Rays on Wednesday night, the Red Sox had some memorable highlights from their doubleheader on Tuesday.
Game one saw Alfredo Aceves make another spot for Boston going five innings allowing only one run and striking out two Rays while earning his fourth win of the season. Despite Aceves solid outing, the highlight of the game was the three hour rain delay that ended in a 5-1 Red Sox victory. David Ortiz provided most of the offense by driving in three of the five runs.
In the nightcap, after closer Andrew Bailey allowed the game tying home run in the ninth inning, Jonny Gomes provided the late game heroics as he hit a two-run walk-off home run off Rays reliever Joel Peralta to propel the Sox to a 3-1 win. Boston starter Felix Doubront pitched a gem over eight scoreless innings allowing just three hits and recording no walks. He also struck out six Rays hitters and pitched at least eight innings for the first time in his professional career.
By the time the game ended on Wednesday night, the Red Sox held a one and a half game lead in the AL East over the Baltimore Orioles.
Looking ahead:Boston will travel to Detroit to begin a four game weekend series against the Tigers before returning home next week to begin an eight game homestand. Last season, the Red Sox were swept by Tigers in a three game set during the second series of the year. This weekend, Boston will look for their first series in at Comerica Park since taking three out of four from Tigers on May 26-29, 2011.