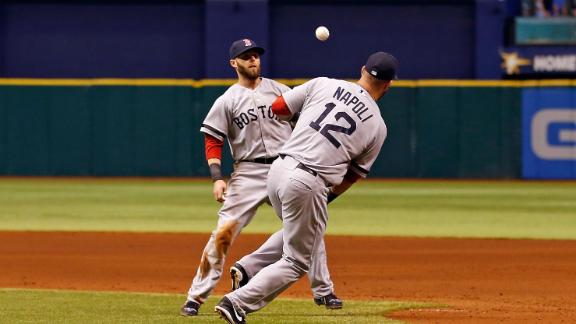 Coming off a 3-4 roadtrip in Tampa Bay and Balitmore, the Boston Red Sox return home for a brief three game homestand in two days before hitting the road again on Thursday in Detroit. The Red Sox finished up the weekend dropping three out of four to the Orioles but will look to get back on track against the Rays at Fenway Park.
Boston will be facing two young Rays starters on Tuesday during the day/night doubleheader with Chris Archer and Jake Odorizzi opposing them. Archer lasted only four innings against the Red Sox last week in Tampa but struck out seven Boston hitters and allowed two runs but left early on after throwing a ton of pitches. Odorizzi will make his first career start vs. Red Sox on Tuesday night.
Mike Napoli will return to the Sox lineup this series as he has missed the past three games dealing with an illness.
Pitching matchups for this series
6/18 Game 1 1:10 pm Chris Archer (1-2 4.80 ERA) vs. Felix Doubront (4-3 4.91 ERA)
6/18 Game 2 7:10 pm Jake Odorizzi (0-0 8.03 ERA) vs. Alfredo Aceves (3-1 5.58 ERA)
6/19 Game 3 7:10 pm Jeremy Hellickson (4-3 5.67 ERA) vs. Ryan Dempster (4-7 4.21 ERA)
Series Notes:
Weird Schedule:The Red Sox are coming off a seven game roadtrip, are currently home for three games and then will hit the road again for four in Detroit then return home for eight before finally ending the first half on a long 10 game west coast trip.
Rays on the road: Tampa Bay is currently two games under .500 on this road this season at 15-17 and were swept by the Red Sox during their first visit to Fenway Park April 13-15.
Carp's hot bat: During the team's last roadtrip, Carp hit two homeruns and drove in five runs and is now hitting .324 with eight home runs and 25 RBIs in only 105 at bats.