ANOTHER STRONG OUTING FOR RUBBY De La ROSA
Rubby DeLaRosa continues to impress. Despite struggling with his control, he pitched a solid 7 innings, giving up just 1 run on 103 pitches as he lowered his ERA to 2.64. The young fieball throwing righty continues to endear himself with Red Sox fans, picking up his 3rd win of the season. Meanwhile, Andrew Miller had a hold and Koji Uehara got his 20th save in the 2-1 win.
Rubby De La Rosa line: 7 IP, 1 Run, 5 Hits, 4 BBs, 2Ks, 1 WP
Dave Duffy again got no run support from his KC teamates. He came into the game with a 2.66 ERA and a 5-9 record and the team scored just one run behind him again. He left with two outs in the 7th, unable to pick up his 6th win.
DO THE SOX REALLY HAVE A SHOT
Every time the Sox start to play better, as they have recently (let's face it, they couldn't have been much worse), Red Sox Nation tries to crunch the numbers and decide if they still have a shot at a play-off spot. I'm not trying to pop your bubble, but it will be near impossible unless they play spectacular ball from here on.
It usually takes 92-93 wins to have a legitimate playoff chance. Last year's AL Wildcard teams were Tampa (92-71) and Cleveland (92-70), in 2012 it was Baltimore (93-69) & Texas (93-69).
Right now Boston has 45 wins with 65 games remaining. In order to reach 92 they will have to go 47-18, an almost impossible task. Even if they coulld squeek in with 90 wins they'd have to go 45-20. If my math is correct (please check me, that's certainly not my strong suit), that's 29/25 games above .500 ball the rest of the way.
SPEED PAYS OFF FOR KC
The speed of Kansas City's Jarrod Dyson was on display as he hit a gapper to right center leading off the 3rd inning. Only the strong arm of Jackie Bradley Jr. prevented it from being an inside-the-park homer, as he reached 3rd standing up. Bradley got to show off his arm again when Omar Infante hit a medium depth fly ball to center, but his throw drifted just up the 3rd base line as rookie catcher Christian Vazquez just missed with a sweep tag as Dyson scored the first run of the game,
The Sox caught a big break in the bottom of the 4th when Alcides Escobar booted what looked like an easy double play and Mike Napoli (single) scored to tie it 1-1.
POWER PAYS OFF FOR THE SOX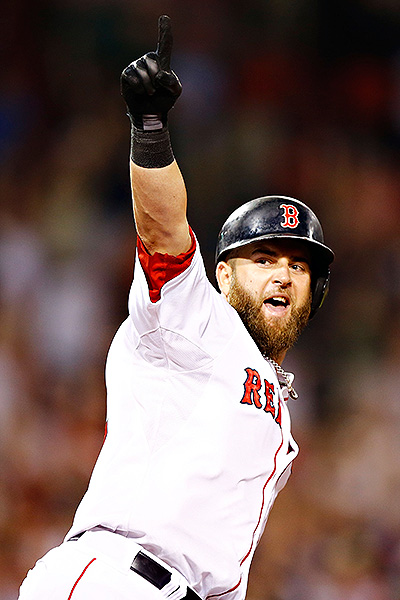 In the 6th Napoli, who has struggled to hit for power this season, zoned in on a fastball from lefty Danny Duffy and hit it out of the park over the Green Monster. It was his 11th homer of the season put the Sox ahead (2-1) for the 1st time in the game.
ANOTHER 1-RUN GAME
As the game moved into the 9th with the Sox still up 2-1 Koji Uehara trotted in from the bullpen looking for save #20 in his 44th appearance. Three batters later he had it as the Sox made it 6 of their last 7 games with the 2-1 win.
NOTES
Known as a streak hitter, Napoli may well be in his 1st of the year, going 2 for 3 with a homer, single and a walk In the last 7 gmes he's batting .375
Andrew Miller
came on in relief in the 8th and, once again, looked great with a 1-2-3 inning. His ERA is now 2.33 and, with his contract expiring at the end of the year, look for the Sox to shop him around before the trade deadline.
Shane Victorino
returned to right & went 1-3 The Sox are 4-0 with Vazquez behind the plate JBJ had his 11th outfield assist
Will Middlebrooks
homered in his rehab start at Pawtucket Saturday After being the hitting hero Saturday night with a PH homer,
Jonny Gomes
had a brutal night in left field Saturday. On one play, as Brock Holt stood waiting for a pop up just behind short, Gomes barrelled into him, and the ball fell to the ground for an error on the left fielder. A few innings later a high fly to left fell 6 feet in front of him, as he literally stopped running as the ball dropped in for a double. On the play Holt, who did not have a play, peeled off well ahead of time. Gomes just put his hands to his head after the play.
All-Star Jon Lester tries to make it a sweep of the Royals for the Sox tomorrow afternoon
Follow me on Twitter @SnowdonBob