It wasn't so long ago, Paul Pierce was the go-to guy in Boston. Hell, it was only a little over 12 months ago, the fate of the Boston Celtics sat heavily on the shoulders of Pierce. Different city, different uniform, different role; the player C's fans still refer to as "The Captain and The Truth" averaged less than 14 ppg with the Brooklyn Nets. He and former green-bleeding teammate, Kevin Garnett (6 ppg), looked a step too slow and showed very few glimpses of the players we left behind in 2012-13. Celtics fans spoke out on the CLNS Post Game Show series, talking about the "sympathy" they had for Garnett and Pierce as the Nets limped their way to a sixth seed.
Sympathy?
The joke is on anyone who "felt bad."
There was no question in my mind that if the Nets could pull it together in time for the playoffs, Pierce and Garnett would kick into over-drive. Watch out Indiana and Miami, the Nets are dangerous. They're led by 2 legends that undoubtedly know what it takes to guide their teammates into the promised land. The days of Paul and Kevin steering the wheel and driving their team no-longer happens with frequency. Outstanding performances, on a game-to-game basis, are now hard to come by for the legendary duo. However, like the spring coincides with the NBA post-season, Pierce and Garnett are like 2 former rock stars reunited with their legendary song-writers. Paul Pierce, Kevin Garnett and the NBA Playoffs seem to sing with magical moments that Boston is so familiar with this time of year.
I miss it.
The Boston Celtics [25-57] are in full rebuild, a painful process of obscurity, while searching for the puzzle pieces that will direct them into a contending future. Meanwhile, though in a different uniform, C's fans are watching their former championship duo wind down, while marred by a sometimes equally painful process of reaching the mountaintop one last time.
Celtics' fans are familiar with storytelling performances from Pierce and KG in springtime.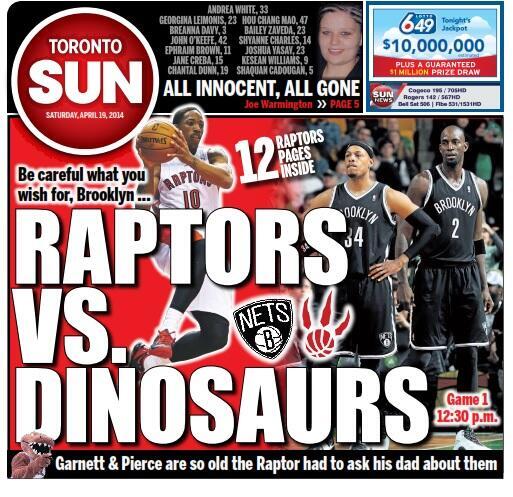 Watching the Nets - Raptors game yesterday, echoes of the silly prehistoric propaganda from the Toronto press rang out in my head. I watched a team that felt like our green, but wore the colors black and white. I found myself fist pumping and screaming at the TV as Paul Pierce plopped in bucket after bucket in crunch time.
No shot clocks? No home-court advantage? Limited playing time? Injured bones? Tired legs?
We've heard these criticisms for years in Boston. We know that they're only relevant during the regular season. We know that Kevin Garnett and Paul Pierce are different players in the post-season; if the Toronto Raptors forgot that, they are in big trouble.
So, as I sit at my desk on Easter morning, waiting for church to roll me out of the house, I couldn't help but write type some random thoughts on my blog. Yes, this is a blog post, similar to those I typed up on North Station Sports from 2008 thru 2010. It doesn't display the dramatic prose of an LHR post. It doesn't sing with the brash basketball breakdowns of a Rich Conte column. This post doesn't even show off a basketball vocabulary found in a game preview, recap or links post from the Celtics Beat team.
This is a good ole' BLOG POST, admiring the greatness of 2 guys who kept me up late, watching playoff games in June. This is a blog post of opinionated nonsense and random thoughts that only a man who misses the "good old [spring] games" in Boston.
So, as I try to sort out sentence structures that would make Mrs. Farrell [my 8th grade English teacher] quiver, my poorly organized thoughts may put LHR into convulsions, worse than the sugar shock he will receive in his Easter basket. The only resolution I can come to is, I will be rooting for the Brooklyn Nets in the NBA Playoffs and, thankfully, I can still watch basketball with passion in the spring, while the rest of Celtics' Nation are spending their April, May and June trying to figure out what Danny Ainge will do with draft picks.
To trade or to draft? I'd prefer rooting on the players who re-ignited the burning fire in my chest this time of year. I'd prefer to reminisce, watch and read about Garnett and Pierce, as they try to write the final chapters in their book of basketball; a book that was written while battling on our parquet floor in Beantown.
I'd rather be a fan again.
Thankfully, CLNS Radio will have full-coverage of the Brooklyn Nets and LA Clippers' playoff games. Yes, I'll be rooting for the Nets (ouch) and if they fail, there's always Doc Rivers and Big Baby (double-ouch)...
In closing, on this sunny holiday morning, I actually have options for what team(s) and players I will root for-- as a Celtics fan, there were never any options in spring-time, only the C's would capture my mind and inspire me to put my thoughts into print.
I was discontent all season long with Danny Ainge dismantling our stars and coaches. Now I can thank Danny for the assortment of options the NBA Easter Bunny left me; unfortunately, none of those options are wearing green, but at least some are still playing like they are.
Happy Easter.