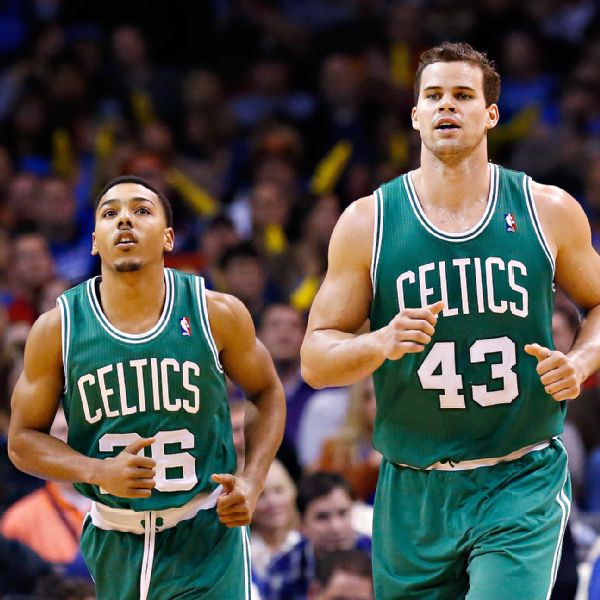 Photo credit: AP Photo/Sue Ogrocki
At the start of the season, Kris Humphries was spending most of his time on the Boston Celtics bench. He only got occasional minutes, and when he did get them he had to make the most of it.
To make up for the lack of minutes, Humphries often runs sprinting exercises with Phil Pressey in order to keep himself in game-ready shape. There's no denying then that despite the lack of time spent on the court, Humphries has been driving hard to improve himself, and indeed the younger players around him.
That kind of effort deserves some form of reward, and perhaps Humphries finally has it. Head coach Brad Stevens has been steadily increasing his minutes, and he's now becoming a more regularly used component of the team. In fact, along with Kelly Olynyk, Humphries and Pressey have all become a bigger part of the rotation.
These three are very well suited for each other. Even though Humphries is 29-years-old, which is still fairly young for an NBA player, he has become a makeshift veteran leader for the young Olynyk and Pressey. This is a wonder to behold for Brad Stevens.
"It's really nice. We've said this about him all year -- he's a great teammate," Stevens said. "We can add a ton of adjectives to that. He's really just a great teammate. I think the young guys are really drawn to him because he goes in there and he works with them and he stays after with them and he spends time with them. I don't think there's any doubt that if you interviewed any of those guys, they'd say the exact same thing."
It's taken a lot of work, and a great deal of patience, but Humphries has perhaps inadvertently become the very thing that the Boston Celtics organization loves the most. He has become not an individual player, but a Celtic. Everything he does is about improving his teammates, and improving the Celtics as a whole. Individual needs have been put on the back burner.
There is always the possibility that Humphries will not play a big part in the future of the C's. With the amount of trades that have been made this season, along with players being moved down to the D League, not to mention rumors that Rajon Rondo is going to explore free agency, Humphries should know that on this team almost no one is guaranteed a home in Boston. For a player who's been in the league as long as Humphries, there's always the potential to loose your drive. It's hard to fight for a team that might not have an interest in fighting for you.
As Pressey tells us though, Humphries is far from despondent.
"He's a 10-year vet, but he still stays after practice, that lets you know that you can't stop working, you have to continue to go at it," Pressey said.
"He's always trying to help the rookies out, trying to show them what it takes to get where he got. I can't ask for any other type of vet because he's working just like we are working and trying to get better. Running extra, lifting extra, getting extra shots -- there's no reasons why a rookie shouldn't be doing the same."
Instead of sitting on the bench and fuming, Humphries has decided that the best thing he can do is leave his mark. If we are all defined by our actions, then the best thing Humphries can do while he's hear is help shape the rookies on his team into the future champions they desire to be.
If players like Pressey and Olynyk do claim Banner 18 for the Boston Celtics in the future, then they both should look back to their first year, and think about how Kris Humphries helped shape them in into true Celtics.