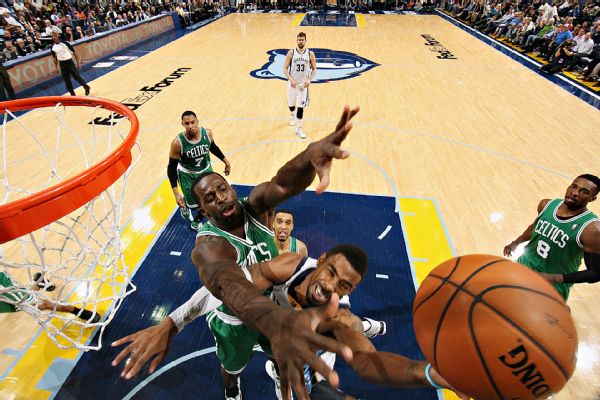 Photo credit: Joe Murphy/NBAE/Getty Images
In the final few months of 2013, it seemed like Brandon Bass was about to hang up his Celtics jersey for the last time.
If the rumors had been true and Bass had been traded, he would have been a victim of circumstance. He had made an effective second half of a defensive partnership with a certain Kevin Garnett during the previous season. But now the Celtics are in rebuild mode and it's time to find new partnerships. New methods. New leaders. Back in November, his Celtics teammates knew already that he fell into the latter category.
"I could sense it the first day of training camp," said Avery Bradley. "He was a [returning veteran], but not only that, he wanted to be the leader, more than anything."
Many will have been surprised by this. He doesn't have the look or indeed the height you would expect from a solid defensemen. He isn't very vocal either when he is on the court. And yet, Bass has become one of the best defensive players the Celtics have, and has become a veteran leader.
Brad Stevens has spoken highly of him, referring to him as his "rock." The young head coach has a lot in common with Bass. They both tend to shy away from questions about their recent success or accomplishments. They both take it all in their stride. They both know there is always room for improvement and things that can be altered or tweaked. When they face the press after a game, they're both already scheming for the next game in their heads.
Bass is now 28-years-old. He's no longer considered one of the younger players in the league. This bluntly means he has to become a veteran "old reliable" player, or prepare to be passed around from team to team. After last season, the only thing stopping Bass from becoming an indispensable part of the Celtics lineup was his lack of passing and his defensive play.
In 30 games this season, Bass has 44 assists. This is the stat everyone should turn to if ever they doubt his work rate.
As you'd expect, Bass barely acknowledged this stat when it was pointed out to him.
''That's what I do, man. I didn't know that,'' he said. ''I don't really keep up with the stats. But it's cool to be able to make plays for my teammates. I told [Rajon] Rondo I'd rather get an assist, a nice assist, versus a dunk. I've been dunking my whole life. It feels good to make a play for somebody else.''
Perhaps what we're seeing is a rebirth for Bass. He's more than aware how he has been viewed by his peers over the years. People thought he did nothing but shoot as soon as he got the ball, hence his "no pass Bass" nickname. It's a name he has never really agreed with, but is something that now at last seems to be put to bed.
Every day, Bass shows up to work and tries to ignore the trade rumors that will no doubt surround him all the way through until February. Who knows, one of them could prove to be true. For Bass it's something out of his control, so he doesn't worry about it. He just shows up to work and figures out how he can make himself and his team better.
If that doesn't make him a Celtic, then nothing will.