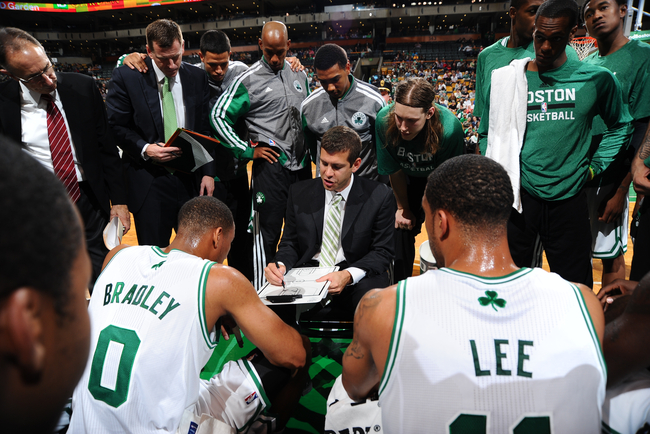 Just two weeks into the regular season, and Brad Stevens has already been through a whirlwind of emotions as the head coach of the Boston Celtics. After losing his first four games and then going on a four game winning streak, the young coach finds himself somewhere between the gutter and the stars.
In his first week he had a team turning the ball over like it was the aim of the game. Selfish play had cost them victory when they should have cruised to their first W of the season. Veteran players were venting their frustration, and Gerald Wallace was letting his coaches know exactly what he thinks.
Then, almost out of nowhere, the close defeats turned into close victories. And then, against all logic and possibly physics, Stevens lead the Celtics to victory over the Heat in Miami with a buzzer-beater three-point shot from Jeff Green. The C's followed that up with a win at home against the Orlando Magic – the first time this season they've won a game convincingly.
It would be narrow-minded to suggest that because the Celtics beat the Heat they can beat anybody, but on their current form, November could be very promising. They could potentially lose only two or three of their remaining 11 games in the month. Who knows, they could even be in the region of .500 when we sit down for Christmas dinner.
But let's not get carried away. That's something Brad Stevens will insist on.
One thing that can't be denied is that Brad Stevens has already given C's fans more to cheer about so far this season that anyone expected. A victory over the Miami Heat almost made the entire country collectively gasp. Now, instead of continuing to win or lose close the games, the Celtics had a convincing victory on Monday. As surprising as it may sound, the Boston Celtics are already improving because of Brad Stevens.
It's been a very long time since a coach has been able to make a successful transition from the college game to the NBA. As Brad Stevens himself pointed out during his inaugural press conference, that possibly has more to do with the fact that none of them were given enough time to build a team. Brad Stevens has been given time. Six years to be exact. Right now, if Stevens is able to keep this run of form going throughout the season, he could find himself in charge of a potential dynasty team before he knows it.
Many people will be asking just how exactly he has been able to pull this off. The truth is that this surprise uprising is Brad Stevens all over. He lead Butler to becoming one of the biggest teams in college basketball almost from the ground up. His meticulous attention to detail has become one of his trademarks, along with his calm courtside demeanor.
He also has tremendous focus. When many members of the press were looking for young head coach struggling to deal with the pressure of being in the NBA, Brad Stevens told them honestly that he hadn't thought about it, and then apologized to them. He's probably the only head coach at either college or NBA level that isn't daunted by the idea of taking over one of the most lofted franchises in American sports. To walk through the door of TD Garden without thinking about the impending shuddering halt of a team's run of playoff appearances certainly takes guts.
It's all happened fast. Perhaps a little fast for some people's tastes. Danny Ainge admitted that Brad Stevens was the first person on his list as potential coaches to replace Doc Rivers, but it wasn't a list he thought he would have to address so soon. There is always the possibility that Stevens' youth could bite back at him in certain situations.
Brad Stevens probably isn't one of the top coaches in the NBA just yet. That's something that can't be decided after two weeks. But the potential is certainly there. If he's between the gutter and the stars, he's certainly closer to the latter. For now Brad Stevens has the reputation of a young underdog coach embarking on a fairytale NBA season.
That's something he certainly won't be thinking about as he prepares for Wednesday's game against the Charlotte Bobcats.