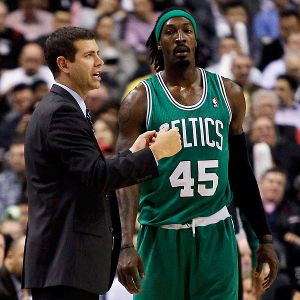 Photo credit: John E. Sokolowski / USA TODAY
Brad Stevens has to win. That's one of the few things we knew about him before he became the head coach of the Boston Celtics. Winning is the most important thing. Losing is crushing and soul destroying. A victory is a sweet taste that lasts forever.
On Wednesday night, Stevens lost his first regular season game as C's head coach. He walked and watched silently and calmly from the sideline for the majority of the game. This wasn't exactly an unfamiliar sight – Brad Stevens is known for his calm exterior while court-side. But perhaps he had been bracing himself for a night like this long before tip-off.
The young Celtics team were their own worst enemy for the most part. A particularly awful second quarter saw them shoot just 2 of 14 from the floor. The majority of their 11 points in the frame came from the free throw line. By the end of the game the C's had turned the ball over 22 times and had allowed the Toronto Raptors to generate 28 second-chance points.
The Celtics did rally back in the third, scoring 34 points, including 10 from Brandon Bass. They kept the game close towards the end of the final quarter with just a four-point deficit, but the Celtics had run out of gas. They simply didn't have enough energy left in the tank to start a late rally.
"I'm not a guy that takes a lot of positives in losses, usually," Brad Stevens said after the game. "But I am able to take away some things tonight that we got better at."
"I walk out of here and, certainly I'm disappointed because you're in a close game and you have a chance [to win], but I walk out of here with some positives to build on. We're going to get better at handling the ball, we're going to get better rebounding, we're going to get better at keeping our guys in front of us, [but] we fought back and competed."
These are uncharted waters for Stevens. Not just because of his transition from the college game to the NBA, but also because of a rather sharp change in context and circumstances. While coaching at Butler, the aim was to win every game. That's why Stevens lead them to becoming one of the best teams in the college game. But now he's in Boston, where defeat in the present is okay as long as it leads to victory in the future.
There's no doubt that this must frustrate him a little. He's being asked to be patient when he wants to win every game. He's having to force himself not to look at the scoreboard during scoring droughts, and instead focus on the way his young team performs. Find the ones that are fitting in and adjusting to his detailed system, and those that aren't pulling their weight and need to be removed. It's a job role that's entirely dissimilar to pitching mop-up when your team is down and out.
Stevens added, "I felt pretty good out there the whole night, at least I felt like I knew what was coming and going. At the end of the day, we didn't do everything perfectly, I didn't coach a perfect game, but I think we can all rest assured that we've got a team that will fight, and we've got a team that will compete, and we can just shore up a couple of those mistakes, maybe we can come out on the other end of it."
It's certainly not an ideal situation, but Brad Stevens has been able to find the silver linings in the Celtics' defeat. It wasn't a blow out like many people expected it to be. For every moment the C's stumbled, they had a burst of beauty. Calm discipline, team building, and a focused reaction to faults and errors are the only things that the Boston Celtics are missing.
And very few coaches can address those things quite like Brad Stevens.