Jeff Green has experienced his share of ups and downs in Boston.
After the young, talented scorer was traded to the Celtics in exchange for fan-favorite Kendrick Perkins almost 50 games into the 2010-11 season, Green underwent a tough adjustment phase.
In particular, he saw his minutes dramatically fall from the 37.0 per-game he was getting in Oklahoma City to only 23.5 with the Celtics. He was taking less shots - subsequently scoring less - and was overshadowed by the likes of Paul Pierce and Kevin Garnett. His role had changed in the blink of an eye.
Then – making matters worse - Green missed the following season after being diagnosed with an aortic root aneurysm. He needed open-heart surgery in early January that year, leaving doctors, fans, and members of the organization with many questions.
The former Georgetown Hoya's contract was set to expire, and Boston Celtics President of Basketball Operations Danny Ainge had a decision to make. Everybody knows the story by now. Green recovered remarkably, and got himself back into basketball shape.
Ainge made a bold splash, awarding Green with a four-year/$36-million-dollar deal. He was showing confidence in the product he had traded for two years before, and the pressure that evaded Green when the news regarding his health came out was back once again.
Last season, he started off slow with the Celtics once again. Through his first 45 games from the late October opener in Miami to the last day of January, Green averaged only 9.6 points per game.
From February 1st to the end of the regular season, however, things dramatically differed.
Kevin Garnett called out Green at one point during the season, saying he needed to buck up and be more aggressive. Green did just that, and averaged 16.7 in the last two and a half months of the season.
Most notably, Green turned in a 43 point – 7 rebound – 4 block stat line in the Celtics 105-103 loss on March 18. That game, however, was overshadowed by the fact that Rajon Rondo suffered a season-ending injury.
Then the playoffs came, and Green made an even bigger leap. He averaged 20.3 points, 5.3 rebounds, and 2.3 assists in the six games the Celtics played in the first round against the New York Knicks. Green had 26 points twice in that series, and took on the role most fans envisioned him taking at the beginning of last year: the scorer.
As Jeff Green scores, the Celtics will go. (Photo: www.sportsofboston.com)
That is why entering the 2013-14 season, all eyes will be on the Boston Celtics guard/forward (that's right, guard).
Newly hired head coach Brad Stevens has made a point already to tell Green that he will be used not only as a small forward and power forward, but as a shooting guard in some situations, as well.
With the plethora of forwards on the roster, Green has openly accepted playing many different positions.
What we have seen out of Green so far this season has been a relaxed version of himself, having fun with some of his new teammates and enjoying his new role.
Green interrupted new teammate Keith Bogans during a training camp interview, giving the camera's a shirtless singing and dancing act behind where Bogans sat. He then took to picking fun at Gerald Wallace, interrupting his interview to ask Wallace if he stole his shoes.
Wallace replied by telling him no, and the two shared a laugh.
The dynamic of having Wallace on the roster with Green, however, is exactly why Green is learning how to play not one, not two, but three positions going into the season.
They are both small forwards at their natural position, Wallace standing at 6-foot-7, Green at 6-foot-9. They have both had experience playing an undersized small forward, as well, making them both very versatile yet very similar at the same time.
That is where their coach comes in. Stevens has had Wallace and Green playing opposite one another in practice, adding that it is very possible they play together during the regular season. Still, he likes the competitiveness they provide to one another during drills.
"I think that's good for us, and I think it's good for both of them," Stevens said.
Wallace has added that he enjoys the dynamic, as well.
"I learn a lot of things from Jeff," Wallace said. "A lot of the things he does – his athleticism is obviously way higher than mine right now. But just playing with him, just learning the way he plays the game, and the aggressiveness that he takes toward the game, are some of the things that I like about playing with him."
Again, Wallace's quote above is yet another example of a teammate using the word 'aggressiveness' when talking about Green. This time, however, Wallace isn't talking about the lack-there-of.
That stats back up KG's assertion that Green needs to be aggressive. According to basketball-refernce.com, Green shot 65.8 percent at the rim last season (as expected).
The alarming number, however, is that when Green was three to 10 feet from the rim, that percentage plummeted to 25.7 percent. From beyond 10 feet, Green was a mid 30-perent shooter.
There you have it, Green needs to attack the rim. He's long, athletic, and has the ability to finish at the rim. In the words of Tommy Heinson, "GET TO THE HOOP!"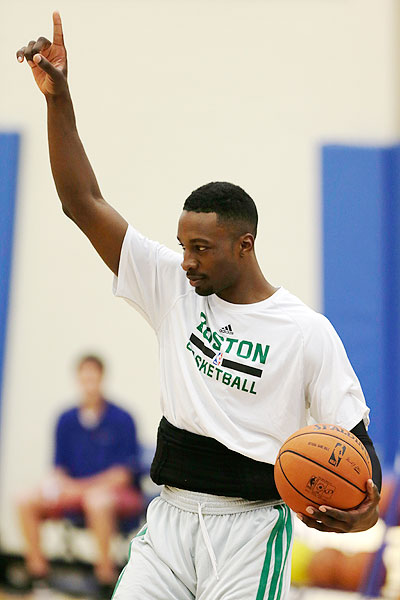 Green's Agressiveness will be key. (Photo: espn.com)
Through the first two preseason games Green has left a lot to be desired. He assures us, however, that the a-hole is on his way.
"It's coming. I didn't bring (that mentality Monday) obviously, the way I played," he said after the first game. "But it's coming, it's coming."
What's left for Celtics fans? Nothing but to wait and see.
One thing is for sure, though. They need him now more than ever, as they await on Rajon Rondo's return.