Boston Celtics point guard Rajon Rondo recently acknowledged the change he has seen within the organization over the past offseason. In one winter, Rondo has seen the likes of Doc Rivers, Kevin Garnett, and captain Paul Pierce all leave for different venues.
Still, Rondo is sticking beside his team.
"I love it here. The fans are great here," Rondo said, according to CSNNE.com. "And [president of basketball operations] Danny [Ainge] has been straightforward with me. This is my team. Why would I want to leave? Why would I want out?"
Rondo has also acknowledged his increasing leadership role over the past few weeks, and says he ready to take the task full bore.
"I never really backed away from a challenge," Rondo said. "This would be a challenge. I'm looking forward to working with coach [Brad] Stevens. It's a brand-new start for us as a team. A lot of new players and a lot of young guys willing to listen, so I'm very excited about that."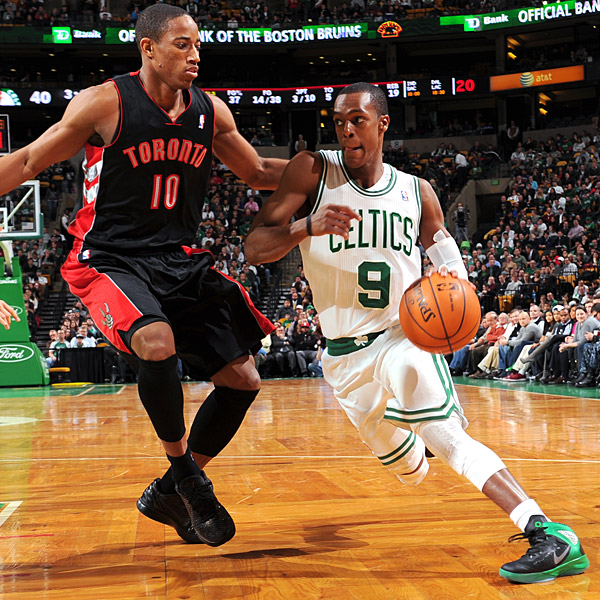 (Image courtesy of ESPN)
Rondo also discussed his relationship with new head coach Brad Stevens, saying that the two are getting along excellently thus far.
"The first week he got hired he actually came down to my camp in Kentucky, and we spoke for about an hour and a half," Rondo told ESPN in an interview. "We communicate a lot. He texts me all the time, and he emails me certain books he wants me to read, so far so good."
Stevens talked about his time in Boston so far, saying that he – just like Rondo – knows there is a mighty challenge ahead.
"The bottom line is that we lost two guys who will be in the rafters some day," Stevens said. "Anytime you lose two guys of their caliber that made the difference in the community and the organization – it's going to be tough."
"Our job is to go out and find ways to be the best team we can be, and I'm excited about that challenge."
Gearing up for the season, Rondo has seemingly embraced the vocal role within the Celtics locker room. His words mirrored those of President of Basketball Operations Danny Ainge's only a few weeks prior.
"We're not going to settle for people saying we are a rebuilding team," Rondo vehemently put it. "We want to go out there and win games. We don't put on the uniform just to compete."