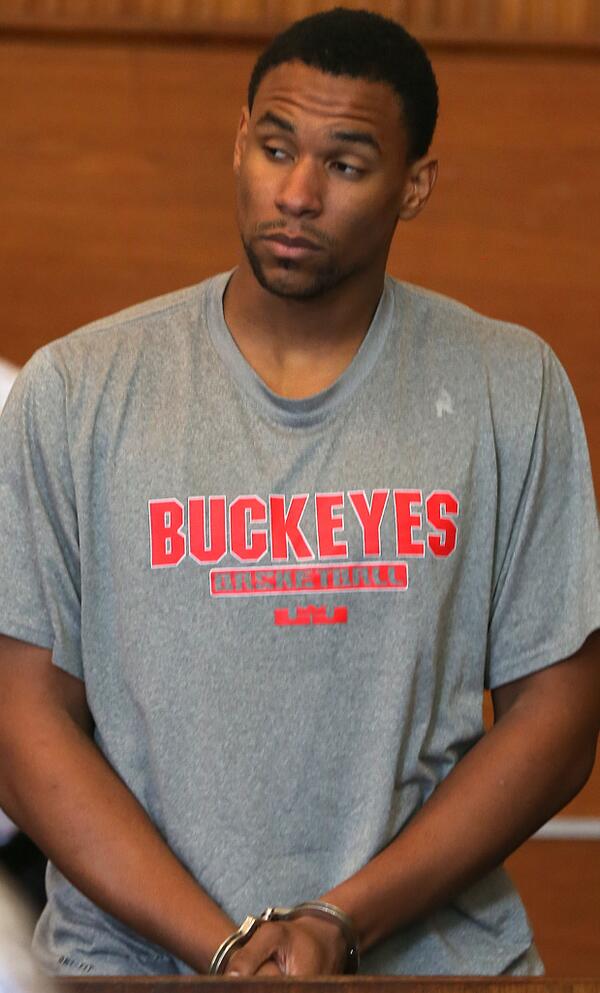 WALTHAM -- Celtics forward Jared Sullinger pleaded not guilty to domestic assault and battery Tuesday in Waltham District Court. Sullinger was also charged with malicious destruction of property and witness intimidation after a physical altercation with his girlfriend Deann Smith in their Waltham home early Saturday morning.
He has been released on $5,000 bail and is due back in court on September 19. The Celtics forward is represented by Charles Rankin, who is also representing former Patriots star Aaron Hernandez in his murder trial.
Originally reported by Fox 25 and confirmed by MassLive.com's Jay King, Sullinger turned himself in at 6:00 AM Tuesday morning after returning from a trip to Ohio. Sullinger is accused of grabbing and shoving his girlfriend after she began to move out over perceived infidelity.
Sullinger released a statement Tuesday, stating, "I voluntarily reported to the Waltham police this morning to respond to charges against me. The experience was humbling and embarrassing for me. Yet I know that this situation has brought both sorrow and embarrassment to my girlfriend, my family, the Boston Celtics organization, my teammates, and my fans. To all of you, I apologize from the bottom of my heart.
"My lawyers have advised me not to discuss the case at this time. But I wanted to immediately and publicly apologize to everyone affected by this situation."
The Celtics also released a statement, saying, "The Celtics were disappointed to learn of the allegations against Jared and are currently gathering more information on the situation, which we are taking very seriously. We will reserve further comment until such point that we have sufficient additional information."
According to the police report, upon allegedly discovering evidence on Sullinger's phone that he was cheating on Smith, she began to pack her belongings to move out of their townhouse. Around 11:00 AM, a verbal argument ensued and got heated to the point that Sullinger threw Smith onto the bed and pinned her down several times. Sullinger then threw her off the bed and pinned her on the ground.
She then grabbed her iPhone to call the police, at which point Sullinger took it and walked away. Deann continued yelling at Sullinger in the living room, where he again pushed her down and then left for the airport for his planned trip home to Ohio.
Smith contacted authorities after confirming that Sullinger had left for Ohio. The police contacted him and told him to surrender upon returning to Waltham. Sullinger would not cooperate with the investigation when contacted by police, refusing to discuss the incident or inform them of when he would return.
Sullinger returned with his father immediately according to his attorneys and is planning on staying in a local hotel with his father for the time being.
Smith also told investigators that Sullinger had pushed her around in the past but she never called for help until Saturday, according to Boston.com. The Middlesex District Attorney's office asked that Sullinger undergo a mental health evaluation, but the judge refused for the time being.
The court will not allow Sullinger to see Smith in person unless a third party is present, but is permitted to make phone contact. The victim declined the court's motion to file a restraining order on Sullinger.
Make sure to follow along with CLNS Radio as we continue to monitor the story very closely.