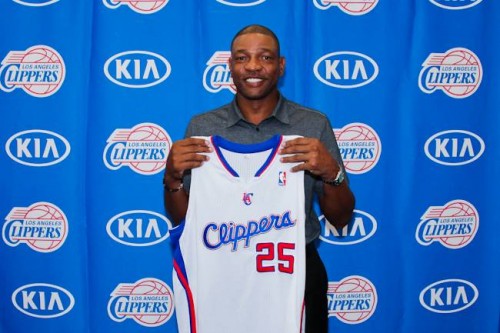 In a conference call with Boston media Wednesday, Clippers coach told CLNS Radio the story of how he went from being the Celtics coach next season to the new Clippers head coach and Senior VP of Basketball Operations.
"[The emotional swing] was quick and it was strange," Rivers said. "I can tell you the whole timeline. I think my son, Spencer, played [an AAU game] at 10 a.m., so about 9:30, I was sitting in a parking lot in Gainesville, Ga., talking to Danny on the phone. I told him that my decision was that I needed to coach [and would return to Boston]. I hung up the phone and I turned the phone off, because that's what I do when I watch my kids play. "Right after that first game, which [Spencer's team] won so they had to play again, I turned my phone on and [Rivers' agent] Lonnie [Cooper] had called me -- and my phone was on fire. And I'm thinking, 'Wow, what happened here? So I called Lonnie ... and he said, 'Have you talked to Danny?' I said, 'I haven't talked to anybody, I've been watching a game. He said, 'It looks like the deal is done.' I said, 'What deal? The deal's dead.' He said, 'No, the deal's done. [Clippers executive vice president] Andy [Roeser] and Danny, for the last two or three hours, have kind of agreed on doing this deal. And so, now, the reason we've called you is to make sure that you still want to be involved in it.' "So my emotions then were all over the place, because I had to kinda redo them. And, honestly, I thought we had gone down this road for so long and so far, I just thought, obviously, if Danny could get a [first-round draft] pick [as compensation], I just thought it was time, it was the right thing to do."
Doc then spent the next 24 hours negotiating a contract that matched the rest of his Celtics' deal and received full control over personnel decisions. Rivers was introduced as the new Clippers coach Wednesday.
Transcription provided by ESPN Boston's Chris Forsberg.