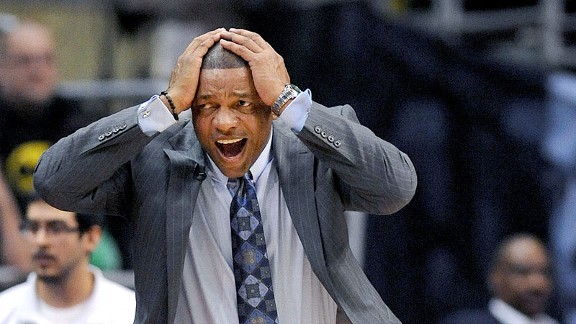 Photo credit: Jayne Kamin-Oncea / USA TODAY Sports
Well, that's that. It all comes to an end. Not with the bang everyone was hoping for, but with an eight-day whimper.
This isn't how the romantic people wanted it go. They had perhaps made their peace with the idea of Kevin Garnett hanging up his green jersey, sure, but Doc Rivers was supposed to be in charge for the rebuild.
No one wanted this.
No one wanted an eight-day slog that would have the PR departments in Boston and Los Angeles sweating. Calling a press conference only to cancel it abruptly – that was certainly the cherry on the cake filled with bile.
For Celtics fans, it was like going through eight days of traction. First the trade was on, then it was off again. On, then off. During the course of negotiations, that happened roughly every 48 hours.
No one wanted this.
The Clippers came across publicly like vultures or poachers, trying to pull away a vital part of the Celtics setup in a manner that NBA Commissioner David Stern referred to last week as illegal. The Celtics looked stubborn, trying desperately to seem in control by insisting on a first-round draft pick as a deal-breaker.
But from a Celtics fan's point of view, no one will have come across worse than Doc Rivers.
From day one of negotiations, it was clear that Rivers wanted out. Ultimately, it was only going to be a matter of when and how. When it was reported that Rivers could have potentially departed with KG to Los Angeles before the February trade deadline, it will have sent a collective shiver down every Celtics fan's spine.
Rivers publicly appeared keen to push the deal. It was reported he'd told Danny Ainge quite bluntly that he didn't want to coach in Boston anymore, despite having a contract that should have kept him at TD Garden for another three years.
Even when negotiations broke down roughly four times, there seemed no way Doc Rivers could stay. He'd made his bed, he now had to be prepared to lie in it.
The possibility of the deal falling through however still looms on the horizon. If David Stern thought the idea of trading for a coach was illegal, then it's doubtful he will have changed his mind in a matter of days. Rivers could find himself back in Boston before he's even had time to unpack his suitcase.
This isn't a desirable situation though. Certainly some fans would be happy that Rivers returned, but bridges have been burnt. The relationship between Rivers and Ainge has been altered forever. The bond between Rivers and the Celtics players will have been broken. And who in their right mind would want a coach who's being held hostage?
It's understandable though for Celtics fans to breath a massive sigh of relief. Relief in the knowledge that at last the eight-day struggle is over. Now the Celtics can get on with their lives, and plan for the future. With a first-round pick awaiting in 2015, the future is looking at least a little bit brighter.
With the departure of Rivers it seems almost an inevitability now that Kevin Garnett and Paul Pierce will also be departing Boston. Pierce has recently been linked with a move to Cleveland, while KG was initially supposed to be part of the deal with the Clippers, until people started mumbling about the collective bargaining agreement.
There is still the possibility of a New Big Three, no doubt involving Rajon Rondo and Jeff Green. But the Celtics must first deal with the delicate matter of finding Doc Rivers' replacement. Surprisingly few names have been thrown around by the press, but current Indiana Pacers assistant coach Brian Shaw appears to be one of the frontrunners.
In any case, it will be interesting to see now how Celtics fans choose to remember Doc Rivers. Hopefully, the memory of his 2008 triumph will take precedence. Instead of the image of him as a captain, jumping from a sinking ship and swimming to California to watch it go down from a safe distance.