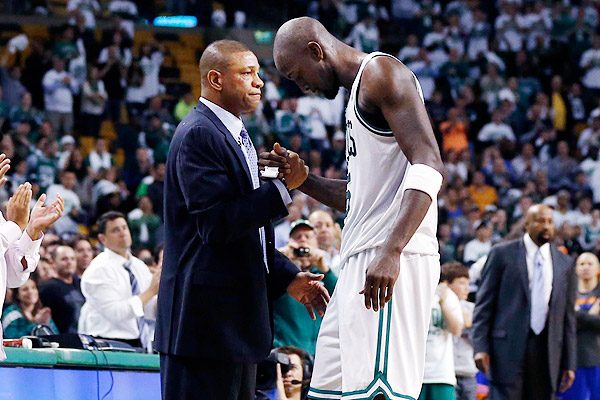 Photo credit: David Butler II/USA TODAY Sports
Damn it.
As always, it ended too soon. They should have gone further. They should have done better. They had so much more to say. The writers here at CLNS Radio had so much more to say.
Instead, the Boston Celtics have canceled their plans for heading back to Madison Square Garden for Game 7. Instead Kevin Garnett and co. will be watching the rest of the playoffs at home on TV.
It's time then for an ending. An ending to something that should have been better.
Many of us (including myself) initially thought the excellence of the Boston Celtics would come racing to the surface in the nick of time. They would have a little luck on their side, and perhaps have a few bumbling performances to reach the Conference semi-finals at least.
But it was not to be.
The Boston Celtics ran towards their destiny, and tripped over their shoelace.
Kevin Garnett launched an all-out war against the creaks in his body, and failed. The sweat poured out of Paul Pierce as he tried to carry his damaged team on his shoulders, and stumbled. And Doc Rivers showed us how far he can take this group of Celtics' players: this far and no further.
Which is why one of modern sport's most valiant teams must disband.
Damn it.
Kevin Garnett's departure, right now, seems inevitable. When he left the court after the Game 6 defeat at the hands of the Knicks, he embraced Doc Rivers and told him he loved him.
"KG is the best," Doc Rivers said. "Just the best. His knowledge is amazing. … He's what, 37? And he's still one of the best in the league. He's different. Different than any star I've ever been around. You can't take him for granted, and we never ever have."
You could see it in Doc Rivers' eyes. The sorrow. The turmoil. The pain. As Rivers embraced his champion, he knew that his glorious partnership with KG, one of the best in the history of Boston sports, was coming to an end.
It's time for an ending.
So often it's forgotten what this partnership did. How it brought the championship philosophy back to the Boston Celtics. How it took a glorious franchise that was stuck in the mud, and lifted it to the stars.
But more than anything, KG helped Doc Rivers grow into one of NBA's best coaches. He presided over two straight seasons outside of the playoffs, and was receiving a lot of criticism before he acquired two players that formed two thirds of what would be known as The Big Three.
Within one year, the Boston Celtics were wearing championship rings. Everything had changed.
They were proud. They were headstrong. They were uncompromising. They believed in one another. They were the closest the NBA could ever come to the New England Patriots-like team orientated philosophy. And Doc Rivers demanded professionalism, not entirely unlike Terry Francona.
The Celtics really couldn't have been more Boston.
But that was then. This is now. And all those traits don't win them championships anymore.
Damn it.
It's so difficult for the greats to bring things to an end graciously. Paul Pierce knows that all too well. If he does depart from Boston during the off-season, he will have spent his final year in a Celtics jersey symbolizing his team's demise. The slow collapse of its core.
No one should have to go out like that, but it's unavoidable.
"I felt bad," Doc Rivers admitted after the Game 6 defeat. "You go through so many emotions [watching] on the floor. I'm down thinking about Paul's emotions out there, because [you know] this is not the game he wanted. We don't know how many more years we have left with them [Pierce and KG] in the league. You always want it to be perfect for them." Spoken like a true paternal leader if ever there was one. But all he can do now is shake his head, and ask himself, "now what?"
Celtics' fans will be asking the exact same question. Rivers has his core group of players to work with: Rajon Rondo (presumably), Jared Sullinger, Jeff Green, Jason Terry, Brandon Bass, and Avery Bradley.
There are worse places to start from. But still, even just listing the names, the lack of Paul Pierce and Kevin Garnett looks like an improbable hole to fill.
Another thing keeps getting forgotten though. Doc Rivers, when he had the chance to move on to a cushier coaching job, decided to sign a contract to keep him in Boston until 2015. He's a smart man, he knew he would eventually be commanding a team in flux.
Was it out of loyalty? A sense of duty? Probably a bit of both. Next season though, as he attempts to replace the irreplaceable, he'll earn his substantial salary and then some.
It won't be easy for Doc Rivers and Danny Ainge. But then again, building The Big Three was hardly done overnight. The prospect of a young players being brought in, to perhaps form The New Three 2.0 with Rondo and Green, is an appealing one. Perhaps it would be worth spending a couple of years in the doldrums if it was the birth of something new.
It's time for a beginning.
It always ends in failure. Like KG, the star player who could imminently admit defeat to the ravaging effects of time. Like the author who writes a masterpiece but knows he failed to set an important thought down. Like the screenwriter who sees his words translated to the screen, and feels some of the magic slip away.
Rajon Rondo, Jared Sullinger, Jeff Green, Jason Terry, Brandon Bass, Avery Bradley, and Doc Rivers. They all carry the awareness of their defeat. Right on their shoulders.
And along with it, they carry the future towards the horizon like a banner of victory.