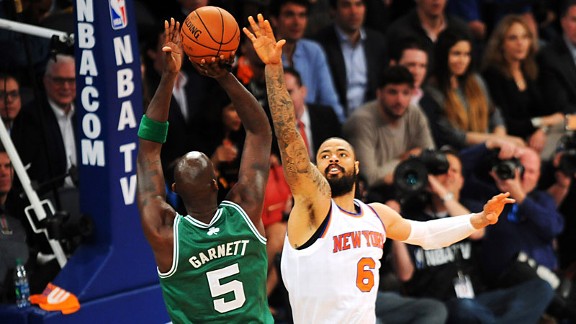 Photo credit: Joe Camporeale/USA TODAY sports
Well, how about that.
Suddenly, it seems like we have a series again.
The Celtics' Game 5 victory had something their previous win in lacked. They looked strong. They looked consistent and driven. Instead of giving up a massive lead in the second half to result in a stuttering finish, the Celtics stayed strong throughout, apart from the slight dip that almost every team suffers from.
It certainly didn't look like it was going to go Boston's way during the first few minutes. The Knicks were very quickly up 11-0, which meant the Celtics bench was left standing until Brandon Bass sunk a free throw four minutes in. That allowed them to complete their tradition and take their seats.
It's strange, but those free throws were rather important. It allowed the Celtics to settle into the game and take a moment to catch their breath. It wouldn't be the last time in Game 5 when Brandon Bass came to the Celtics' rescue.
Bass scored nine of Boston's first 11 points. Then, in the fourth, when it looked like another offensive drought was about to let the Knicks back in the game, Bass sank a shot over the outstretched arm of Tyson Chandler to restore order once again from the brink of chaos.
"I thought Brandon Bass -- I thought the bank shot he made was probably the biggest shot of the game, because we were leaking a little oil in that stretch, and that kind of settled us down," Doc Rivers said.
This has to be frustrating for the Knicks. Many of them may suddenly be thinking about what happened in 2004, questioning whether history is about to repeat itself.
No wonder tempers flared after the game.
Right after the buzzer, Carmelo Anthony could be seen solemnly walking off the court, when Jordan Crawford came up along side and started barking at him. While it wasn't the kind of thing we like to see on the court, Crawford was essentially a young and foolish guy getting caught up in the moment.
Anthony turned to confront Crawford, but D.J. White quickly stepped in to try and defuse the situation. When Raymond Felton came running over, things very nearly got out of hand.
"I'm not thinking about no Jordan Crawford. Not at this point in time, I'll tell you that," Anthony said after the game. "I don't think he deserves for you to be typing [his name] right now."
Of course this isn't the first time the Celtics have gotten under Melo's skin. We all remember the night in January he waited for Kevin Garnett next to the team bus.
"If you watch the replay, I was just the guy to try to separate the teams, I don't know what happened," Terrence Williams said. "I was talking to [assistant coach Ty Lue], then I just turned around to see guys pushing and I don't know. I don't know how that started. The good thing is no punches and all that. And we'll see them on Friday."
"We'll see them on Friday." Nice. There is an excellent comment buttoner if ever there was one.
One man who understandably was not happy about the confrontation was Doc Rivers. He quickly stepped in and dragged his players away, ordering them to go straight to the locker room as quickly as possible. KG simply watched on. He wasn't smiling, but when he saw Melo's reaction, he could have been wryly grinning on the inside.
"I wasn't happy with it," Rivers said. "[Knicks coach Mike Woodson] wasn't happy with it. Let's play basketball. Let's play real physical basketball and let's walk off the floor. I don't know what happened. I'm glad [John] Starks wasn't there."
Again, very nice. Even though it was a situation Doc has no patience for, he still found the time to playfully poke at his former teammate.
Judging by the post-game comments, the Celtics seem very relaxed and pumped. The Knicks, if anything, look frustrated and on the run.
The series is at 3-2, and Friday at TD Garden awaits.
Game on.